Dentures In Waukesha, WI
At Bayer & Fahl Dentistry in Waukesha our dentists take pride in making quality, customized dentures for our patients. If you've experienced an injury, tooth decay, or gum disease that has resulted in tooth loss, our dentists can replace missing teeth and restore your smile with full or partial dentures.
What are Dentures?
Dentures are a removable replacement for missing teeth and surrounding tissues. An upper denture is fabricated in flesh colored acrylic that covers the roof of the mouth, while a lower denture is horseshoe-shaped to permit room for the tongue. The teeth in dentures are made of plastic, porcelain or a combination thereof.
When all of your teeth are missing you would need what is called full dentures. If only one or several of your teeth are missing you would need what is called partial dentures.
Full Dentures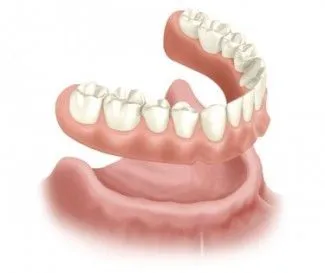 At Bayer & Fahl full dentures are fabricated for Waukesha patients who have lost all of their teeth and replicate a complete set of teeth and gums.
Full dentures are either "immediate" or "conventional." They are created after your teeth have been removed and your gum tissue has had time to heal. Conventional dentures are ready for use approximately eight to twelve weeks post teeth removal.
Immediate dentures are created before the teeth are removed. The benefit to having immediate dentures is that they provide you with teeth during your healing period. The disadvantage however can be due to the fact that gums and bones shrink over time, especially following the removal of your teeth. Therefore immediate dentures could require more fitting adjustments and are generally only a temporary solution until conventional dentures are created for you to use.
Partial Dentures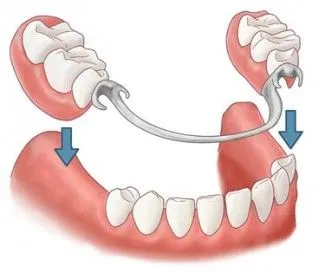 At Bayer & Fahl partial dentures are fabricated for Waukesha patients who have remaining natural teeth. They are used when one or more of your natural teeth still remain in your lower or upper jaw. A partial denture or bridge usually is made of replacement teeth attached to a gum colored plastic base, which may be connected by metal framework, holding the partial denture in place. A fixed bridge replaces one or more teeth by placing crowns on the teeth on either side of the space and attaching artificial teeth to them. This "bridge" is then cemented into place.
Partial dentures fill in the spaces created by missing teeth and prevent your other teeth from changing in position. A precision partial denture is removable and has internal attachments rather than clasps that attach to the adjacent crowns. This is a more natural-looking appliance.
Our Waukesha dentists help to ensure that your dentures are comfortable and designed specifically to fit your smile. There is absolutely no need to be fearful of a dramatic change in your appearance. In fact, dentures most often improve your appearance and your smile.
They are designed and made for you specifically, meaning that they closely resemble your specific smile.
What Is the Process for Getting Dentures at Bayer & Fahl?
Developing and creating the perfect smile for you is a process that will likely require several appointments at our Waukesha office. To ensure accuracy we make a series of impressions of your jaw and measurements of how much space is between your jaws, as well as how the jaws relate to each other.
We create a model in the exact shape your denture will be made. You will actually try out this model a few times as our dentists assess for color, fit, and shape. When the model is complete we cast a final and perfect denture for you.
If you feel you can benefit from custom fabricated dentures, please schedule an appointment with the Waukesha dentists at Bayer & Fahl. Call 262-542-2293